To practice Montessori at home is to encourage the child's autonomy
Montessori education is a state of mind that pushes the adult to bring the world within the reach of the other and of the child in particular. It is not just about materials, it is an applied philosophy. You can easily organise your flat or house so that your home is "Montessorian".
Getting in and out of bed alone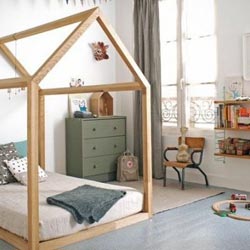 Your child should be able to get up or lie down on his own without risking injury. For example, you can put the mattress on the floor. It is also important that your child feels contained on at least two sides: use the wall or firm cushions along the length and width of the mattress.
Choose clothes from 2-3 prepared outfits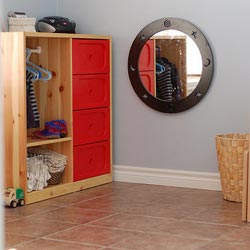 In a drawer or on a shelf at his or her height, prepare 2-3 clearly visible seasonal outfits that you change so that your child can choose between them every day.
Of course the clothes themselves have been chosen for the ease with which he can put them on by himself (no buttons on the back, no laces, no turtlenecks, ...).
Learning hygiene by doing "almost" yourself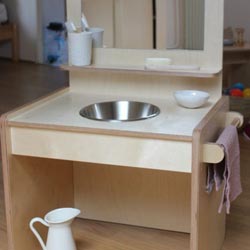 Make sure your child can wash their hands, brush their teeth, bathe, go to the toilet, with the least amount of assistance from you.
For example, a generation of children called the bidets that had fallen into disuse for adults ' the children's washbasin '. They washed their hands in them with the soap and towel that were left within their reach.
Putting on and putting away coats and shoes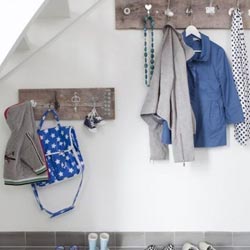 Make sure that coats and shoes have an accessible place for your child. Putting on and putting away coats and shoes is a "big job" for a young child and it is important that this job can be done as easily and ergonomically as possible.
For example, place coat hooks at the child's height. If a coat hanger is to be used, plan to have a coffee table nearby, as your child does not yet have the coordination to hold the hanger with one hand and put on the coat with the other.
Mastering everyday gestures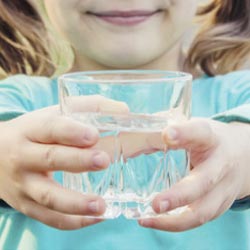 Opening a cupboard, opening and closing a door, using a dustbin - these are everyday actions that adults do and pass on, but rarely at the speed of the child. Your child observes, but from his or her seat it is difficult to understand the exact movement required.
Take the time to show them, have them repeat it and then insist on what is important: "gently", "quietly", "all the way down"... The aim is to get your child to refine their movements, gain better control of their motor skills and get into the habit of doing things fully.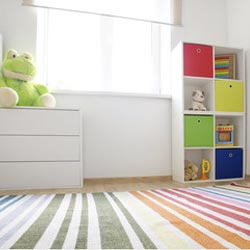 The request seems natural to you and the implementation obvious. Of course, your child understands the expected result, but he/she can only implement a strategy if it has been transmitted to him/her.
From the age of 6 onwards, the child may even respond with a sincere "But how do I do it?" which makes it clear that the request should have been something like: "Please tidy up your room and therefore pick up every object that is lying on the floor and put it back in its place".
Some simple ideas to keep in mind for living Montessori at home
The activity offered to the child should correspond to his or her strength, size and level of development. For example, a 6-month-old puts markers in his mouth but does not write spontaneously. The 3-year-old needs to write but, lacking paper, may start drawing on a wall. The 8 year old will probably take the pens apart to answer the question "how does it work".
Stimulation is necessary but its abuse is harmful. Material offered too early or too late is lost material. Indeed, a child who cannot reproduce the necessary gesture becomes discouraged and turns away from the material. Bringing them back to the material will require a lot of tact. Material that is too easy or that calls on outdated sensitive periods is of no interest. For example, after the age of 4, rough letters do not move the child.
Let him repeat it, it is the beginning of concentration. Look at his or her calmness while washing hands several times: the child under 6 is less interested in the goal - having clean hands - than in the action - washing hands - and in doing so his or her state of concentration must be preserved.
Carry it with your eyes and the attention you give it. You are probably familiar with the "look how I.... "and "I'm going to ...., you're looking at me right?!", so when you say "yes" don't get distracted or answer truthfully "as soon as I'm done...".
Children are happy to reproduce a gesture they have seen an adult do and they always try to repeat it, so beware of dangerous behaviour! Before the age of 3, children should not have looked at a screen and, until the age of 5, screen time is time lost for their intellectual, motor and psychological development*.
Let the child walk. Walking teaches children to coordinate their movements and allows them to increase and strengthen the connections between their right and left brains, thereby facilitating the development of their intelligence.
Let the child handle the fork himself. By handling the fork, the child learns to coordinate and refine his or her movements while strengthening his or her ability to concentrate.
In fact, simply let the child be a full member of the family; let him or her participate in family life whenever possible.
Screen or no screen?
The "3-6-9-12" rule
relayed by the Association Française de Pédiatrie Ambulatoire (AFPA)
4 steps to a better future:
4 beats without screens
My child and screens
Information video on screen management for children